CREATE YOUR VIRTUAL CARD
or choose from our GALLERY
The GiftCards.eu designs are sourced from professional photographers and designers. If you have an own idea for a new exciting GiftCard design, please send it to us on gift@giftcards.eu
Card value

0.00

EUR

0.00

EUR

Total

0.00

EUR
The Photo must be at least 640x480px and one of the following formats: .jpg, .bmp, .png. Recommended color density - over 20%. We review each image submitted.
While we accept most photos, we will not accept images that contain the following:
1. Company names, trademarks, logos, slogans, works of art, copyrighted materials or brands of any third party and their likeness.
2. Celebrities, professional athletes, actors, cartoons or computer game figures that are the sole focus of the image.
3. Phone numbers, addresses, URL addresses, account or PIN numbers.
4. Violence, blood, dead animals, indecency, nudity or semi-nudity.
5. Culturally or socially insensitive texts or images, or those that show alcohol, tobacco, gambling, firearms, online or role playing games, or adult entertainment.
6. Texts or images that display the views, opinions or beliefs of political groups or religions.
7. Libelous or derogatory or defamatory content.
8. Discriminative or provocative content.
9. Numbers, texts or images that might induce misunderstanding.
10. Images that display political behavior or sentiment, or content that is in violation of any rules, regulations, or laws.
11. Texts or images that might result in card acceptance confusion by merchants.
12. Other texts or images that are deemed not suitable for any reason for use as a GiftCard face by Giftcards.eu or our partners.
Giftcards.eu takes the right to cancel your order if the sent photos don't answer to listed above requirements.
1. Description of the Video Greeting Service:
Upon online order of GiftCard you may record a greeting ("Video Greeting") to the person you wish to present the GiftCard. Upon receipt of the GiftCard the person will be able to view the Video Greeting following a link sent to the recipient during the activation procedure.

2. License to use GiftCard Video Greeting Service:
We grant you a limited, non-exclusive license to access and use the Video Greeting Service for your own personal, non-commercial purposes. This includes the right the content that you have made available on the www.giftcards.eu to be viewed by the person to whom you wish to give a GiftCard.

3. Upload only videos you created yourself.
You agree that for each piece of video content that you submit, you represent and warrant that:
- you have created or have participated (as director, DP, editor, musician, motion graphics artist, actor, etc.) in the creation of the video content;
- and you have the right to submit the content to www.giftcards.eu and grant the licenses set forth above;
- and we will not need to obtain licenses from any third party or pay royalties to any third party;
- and the content does not infringe any third party's rights, including intellectual property rights and privacy rights;
- and the content complies with this Agreement and all applicable laws.
You will indemnify, defend, and hold us harmless from and against all third party actions that:
- arise from your activities related to Video Greetings Service;
- assert a violation by you of any term of this Agreement;
- or assert that any content you submitted to www.giftcards.eu violates any law or infringes any third party right, including any intellectual property or privacy right.

4. You may not upload, post, or transmit (collectively, "submit") any video, image, text, audio recording, or other work (collectively, "content") that:
- Infringes any third party's copyrights or other rights (e.g., trademark, privacy rights, etc.);
- Contains sexually explicit content or pornography (provided, however, that non-sexual nudity is permitted);
- Contains hateful, defamatory, or discriminatory content or incites hatred against any individual or group;
- Exploits minors;
- Depicts unlawful acts or extreme violence;
- Depicts animal cruelty or extreme violence towards animals;
- Promotes fraudulent or dubious business schemes; or
- Violates any law.

5. Video upload size and format limits
- You agree that Video Greeting Service allows upload of video content that is limited to a total of 30 seconds of Video Greeting per order.
- You agree that Video Greeting Service on www.giftcards.eu supports you to upload a video content that does not exceed 100MB in size.
- You may use Video Greeting only the following video formats: MP4, WEBM. You must be advised that a video captured by some digital cameras and camcorders may require conversion prior to upload.
6. Languages
During the video recording you can use only the following languages: English, Italian, German, Spanish, Bulgarian, Romanian, Greek and French.
7. Term and Termination. Storage time.
Your Agreement to use GiftCard Video Greeting Service starts on the date you first register and upload your video content on www.giftcards.eu.
A Video Greeting for online order of GiftCard without full payment for that order shall be kept for 3 days from its uploading after which it will be deleted and you will have to upload a new Video Greeting.
A Video Greeting for online order of GiftCard that is fully paid shall be kept on www.giftcards.eu for 6 months from uploading the video before being seen by the recipient of GiftCard.
We may delete you video content after 3 days from the moment the recipient of the Video Greeting viewed it. We shall provide the recipient with the option to save the Video Greeting. A video that has been confirmed by the recipient as seen shall be deleted immediately.
We may suspend, disable, or delete your account (or any part thereof) or block or remove any content you submitted if it is determined that you have violated any provision of this Agreement or that your conduct or content would tend to damage our reputation and goodwill. Upon termination, all licenses granted by us will terminate.

8. General Provisions.
This Agreement shall be governed by the laws of Republic of Bulgaria. Any action arising out of or relating to this Agreement or your use of the Video Greetings Service must brought for resolution before the competent courts in Sofia, Bulgaria.
By registering and uploading your Video Greeting on www.giftcards.eu you agree with the terms and conditions in the Video Greetings Guidelines.
Video cannot communicate with your camera
You don't have camera on your device! If you want you could upload your video file below.
GiftCards.eu Alert
You are about to delete your video reccord, are you sure?
GiftCards.eu Alert
An error occured while recording.
Confirm delivery address
| | |
| --- | --- |
| Country | |
| City / Zip / Postal code | / |
| Address | |
| Recepient's name | |
| Recepient's mobile phone | |
CURRENCY CHANGE CONFIRMATION
You have to change your card design. Please select from the designs below.
Пoдарък от GiftCard
Скъпи приятели,
С покупката на всяка GiftCard подаряваме и две карти iCard Visa.
С тях можете да теглите пари в брой от всеки банкомат по света и да плащате онлайн или на ПОС терминал.
При това без никакви такси за обслужване!
Всяка карта се активира в мобилното приложение iCard и се свързва със сметката в него.
По този начин можете директно от телефона си да:
задавате своите дневни лимити;
получавате незабавни известия за всяко плащане;
блокирате и отблокирате картата си, когато искате.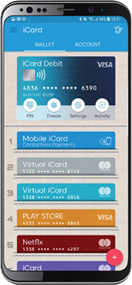 Какво е iCard?
iCard e дигитален портфейл,
който събира всичките Ви карти и платежната Ви сметка на едно място - в телефона.
С него лесно и удобно:
събирате точки и ползвате отстъпки от различни търговци с карти за лоялност;
изпращате виртуални Gift Cards директно от приложението;
пазарувате онлайн безопасно с виртуални карти Visa и Mastercard;
получавате и изпращате пари за секунди безплатно до всички iCard потребители;
нареждате преводи в лева, с фиксирана такса само от 1.00 лв.;
плащате само с телефона си.
Повече за дигиталния портфейл и за нас открийте на iCard.com!
Do you confirm the forwarding of email message
Do you confirm the forwarding of email message